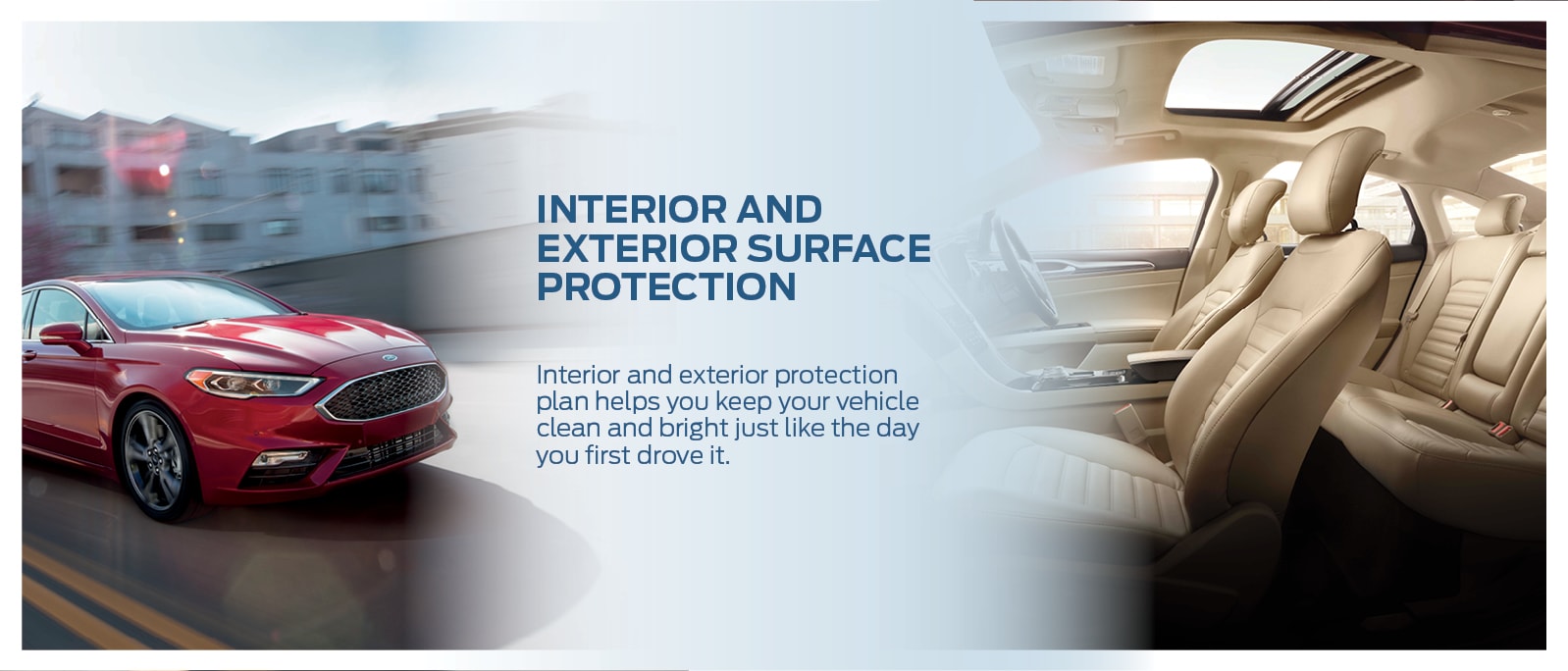 Surface Care for Interior and Exterior Protection
A surface care extended service plan helps maintain the beauty of your vehicle protecting it inside and out. Preserve the interior and exterior appearance of our vehicle using Cliajet® products for exceptional protection.
Surface Care for the Exterior of Your Vehicle
This protectant is an anti-corrosive sealant that repels adhesion of contaminants to the exterior of your vehicle. Cliajet® protects new paint finishes and renews and revitalizes old, dull and oxidized surfaces. Treated exterior surfaces protect the finish of your vehicle by preventing dirt, grease, salt, rain and other harmful contaminants from adhering to paint.
Surface Care for the Interior of Your Vehicle
Keeps your leather, vinyl or fabric interior protected from stains, fading, spills and more - and 100% hypoallergenic.
Surface Care that is Environmentally Friendly
This is an environmentally friendly formula that reduces water usage and chemical runoff. Cliajet® interior products are hypoallergenic and exceed VOC (volatile organic compounds) requirements.
Whether it's environmental elements or everyday life, a surface care extended service plan provides comprehensive protection for your vehicle's surface.
Exterior Protection
:
Weather-induced fading and oxidation

Loss of gloss

Hard water etching

Industrial fallout

Bird droppings

Acid rain

Accidental paint over spray

Tree sap

Oxidation

Insects

Road salt

De-icing agents

Reduces brake dust build-up

Reduces surface imperfections such as webbing and fine scratches
Interior Protection:
Food/drink stains

Oil-based stains

Ultraviolet-induced fading

Blood or vomit

Chewing gum

Inks/dyes/lotions

Lipstick/makeup

Crayons

Pet stains



Make an Inquiry
* Indicates a required field
Hours
Monday

9am-7pm

Tuesday

9am-7pm

Wednesday

9am-7pm

Thursday

9am-7pm

Friday

9am-6pm

Saturday

9am-5pm

Sunday

Closed