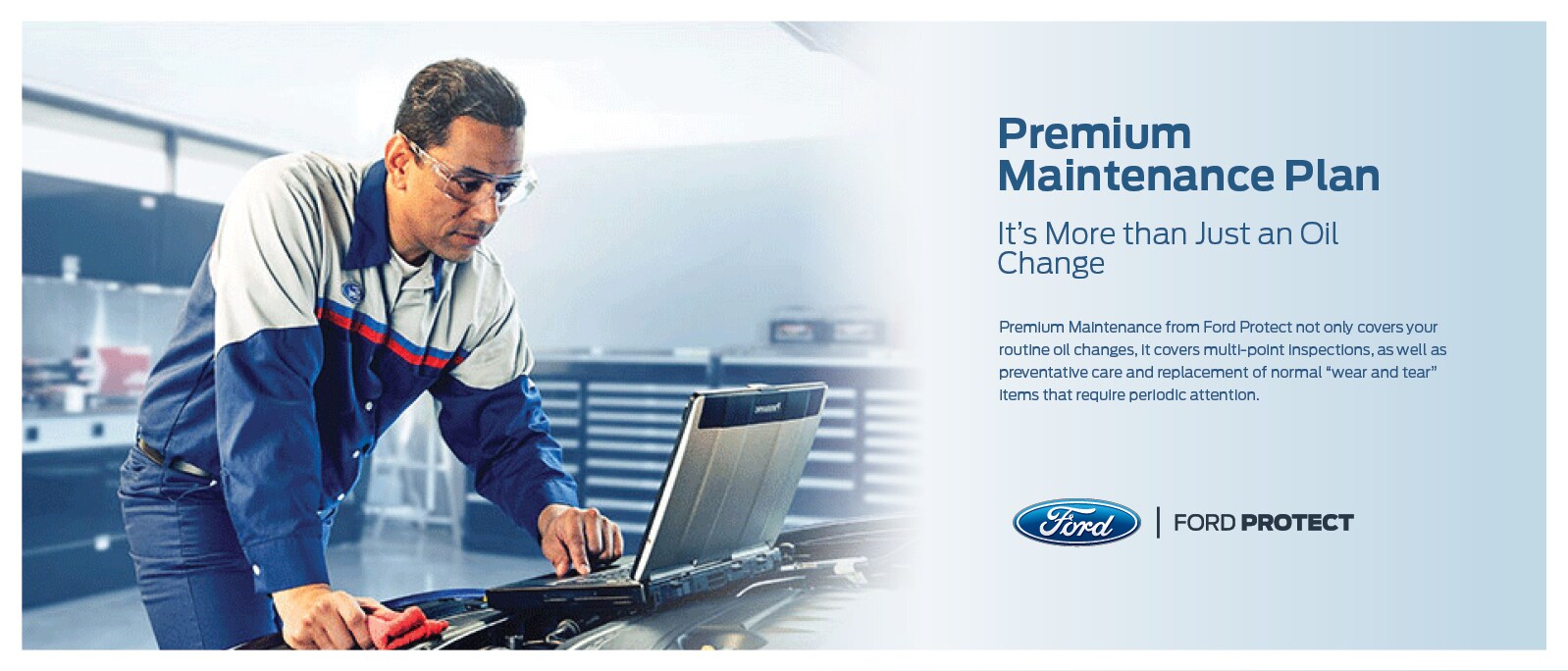 Comprehensive Maintenance Coverage for Ford and Competitive-Make Vehicles
You can keep your car or truck running great for years to come with a Ford Protect Premium Maintenance Plan. This comprehensive maintenance coverage takes care of scheduled maintenance required by the manufacturer. The plan includes normal wear items. A prepaid maintenance plan helps protect you against rising labor and parts costs.
Plans must be purchased before the earlier of 3 years or 36,000 miles from the warranty start date
Coverage begins at the New Vehicle Limited Warranty start date and zero miles
Coverage ends at the earlier of the number of years purchased or number of miles purchased

All service intervals purchased must be completed before the coverage ends
Enjoy Premium Protection with Comprehensive Maintenance Coverage
Protect your vehicle and budget with timely care and inspections that may:
Prevent serious and expensive repairs

Help you maintain optimal performance
Lock in future maintenance costs at today's prices
Possibly increase your resale/lease-end value

First-class service from Ford factory-trained technicians who use only Ford-authorized parts
Premium Comprehensive Maintenance Coverage Gives You Peace of Mind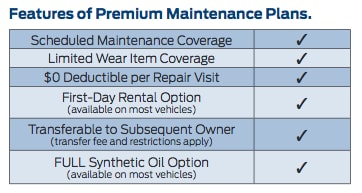 This comprehensive plan provides premium protection for your vehicle with routine inspections, preventive care, and replacement of normal wear items that require periodic attention, including:
Engine oil and filter changes
Multi-point inspections
Tire rotations
Brake pads and linings
Shock absorbers/struts
Spark plugs
Clutch discs
Engine belts, coolant hoses, clamps and o-ring seals

Wiper blades
Ford Protect Premium Maintenance Extended Service Plan Is 100% Backed by Ford Motor Company
Ford-authorized parts are used for repairs

All technicians are factory-trained and certified

Service provided at all Ford and Lincoln dealerships in the U.S., Canada and Mexico
Plans for Every Driver
Choose the plan that's right for you. We offer coverage in 5,000, 7,500- and 10,000-mile intervals.
Convenient First-Day Rental Option
Add rental assistance to your plan. Get reimbursed for a rental vehicle for up to two days any time you leave your car at the Dealer for covered services.
There Is $0 Deductible. Coverage Is 100% Transferable
If you ever sell your vehicle, the new owner can take advantage of remaining coverage. This could help attract buyers, plus it may bring an INCREASED RESALE VALUE for your vehicle. Transfer fee and restrictions apply.
Flexible Payment Options ... Everyone Qualifies!


Make an Inquiry
* Indicates a required field
Hours
Monday

9am-7pm

Tuesday

9am-7pm

Wednesday

9am-7pm

Thursday

9am-7pm

Friday

9am-6pm

Saturday

9am-5pm

Sunday

Closed