HARDWORKING. EFFICIENT. ELECTRIC.
The best-selling commercial van brand in the U.S. is helping lead business into the future. Introducing the all-new, U.S.-assembled Ford E-Transit van. The only electric work van that has the backing of the Ford Motor Company. That means an entire ecosystem of products, software and charging solutions that will allow you to smoothly transition to the future of business.
THE POWER OF CHOICE
One size never fits all. That's why we offer so many choices in electric work vans. Just like the gas-powered Transit Cargo Van, the E-Transit models come in three lengths and three roof heights. It's also available in chassis cab and cutaway models. Which means it adds eight all-electric configurations to the already best-in-class* total offered by the current gas model.
THREE CARGO VAN ROOF HEIGHTS
The E-Transit Cargo Van is available in three roof heights: high, medium, low. The high-roof model allows a person as tall as 6 ft.9in. tall to stand up straight inside the van, making it easier to move around and use equipment. The medium-roof height can accommodate a person as tall as 6 ft. while the low roof height enables easier maneuverability and can fit into garages with an opening of up to 7 feet wide.
THREE CARGO VAN BODY LENGTHS
Whether you need a vehicle that's easy to maneuver around the traffic and tight spaces of a city or one that offers more cargo space, the E-Transit Cargo Van has you covered. Available in regular, long and extended lengths, there's sure to be one that's a good fit for any job.
CHASSIS CAB AND CUTAWAY MODELS
With chassis cab and cutaway models, America's first electric work van from a full-line automaker offers businesses the right van for any job. Plus, it's easy to upfit and offers several available packages designed to make adapting to your needs simple and convenient.
POWER FOR YOUR BUSINESS
We built the E-Transit model to help you build your business. So, whether it's helping to reduce operating costs or helping you take on jobs other people can't, you can feel confident the E-Transit van has your back. 
ZERO GAS.
LESS SCHEDULED MAINTENANCE.
With zero trips to the pump and less scheduled maintenance than traditional gas-powered engines, electrifying is a smart move. For instance, electric vehicles don't use engine oil, making oil changes a thing of the past. In addition, scheduled maintenance costs on the E-Transit model are estimated to be 40 percent less than the average scheduled maintenance cost compared with a gas-powered 2020 Transit over 8 years/100,000 miles (whichever comes first). *And you may qualify for a federal tax credit as well as other state and local incentives.
LESS NOISE
Work almost anywhere, anytime, day or night, because the all-electric E-Transit offers a whisper-quiet powertrain that allows for operations in areas with noise restrictions, helping to reduce levels in cities and neighborhoods.
ZERO TAILPIPE EMISSIONS
The 2022 E-Transit van is expected to be certified as a zero tailpipe emissions vehicle*, which means the E-Transit model can operate where internal combustion engines can't, including indoors and environments with limited ventilation. So it can take your business where it could never go before while helping you attain sustainability goals.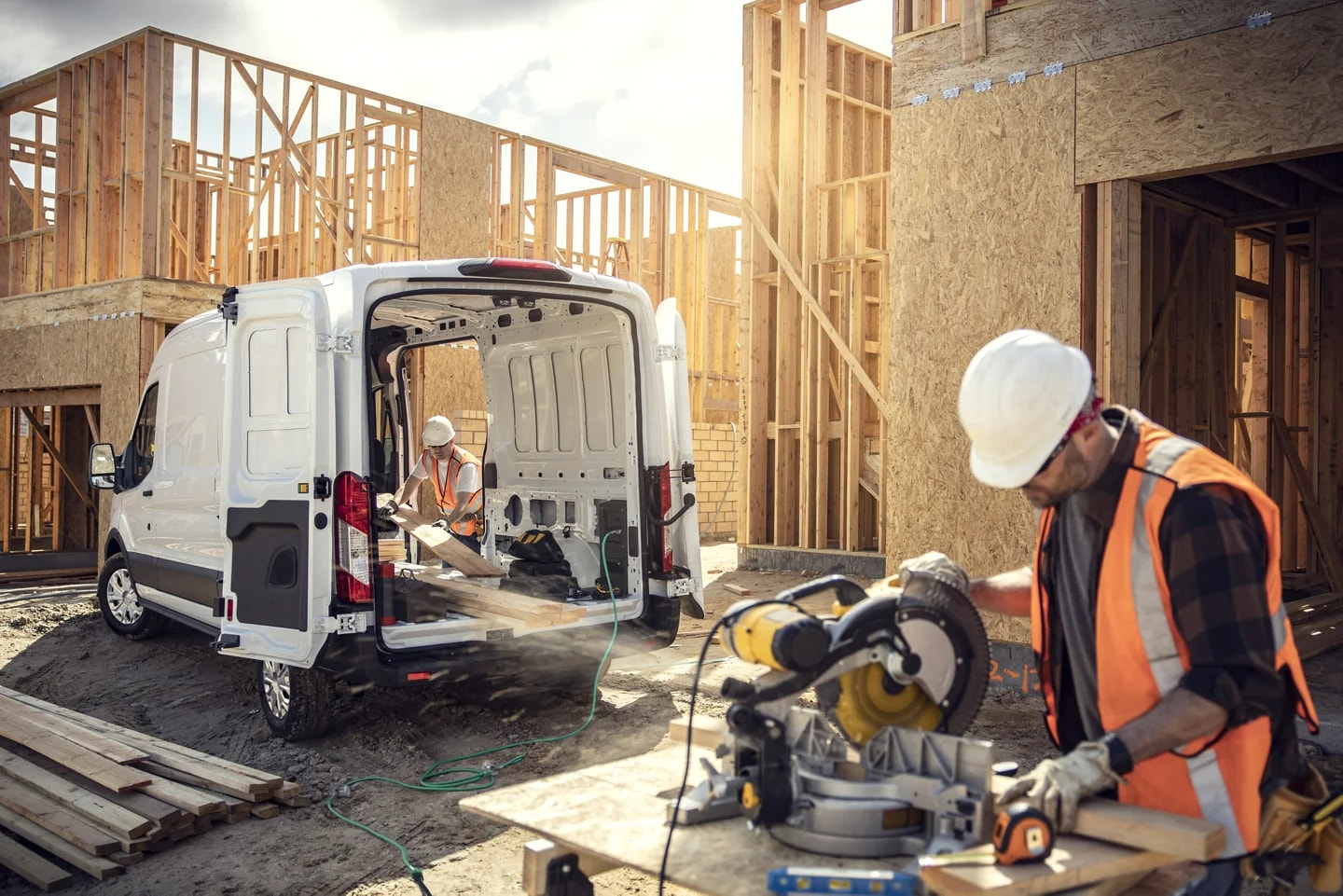 PRO POWER ONBOARD
Available Pro Power Onboard provides 2.4kW of power. Enough to charge the tools you need to get the job done, from power tools like saws, drills, jackhammers and more to tablets, laptops and label scanners, which eliminates the need for an inverter. And since it works while the van is being driven, it's easy to keep things powered between jobs.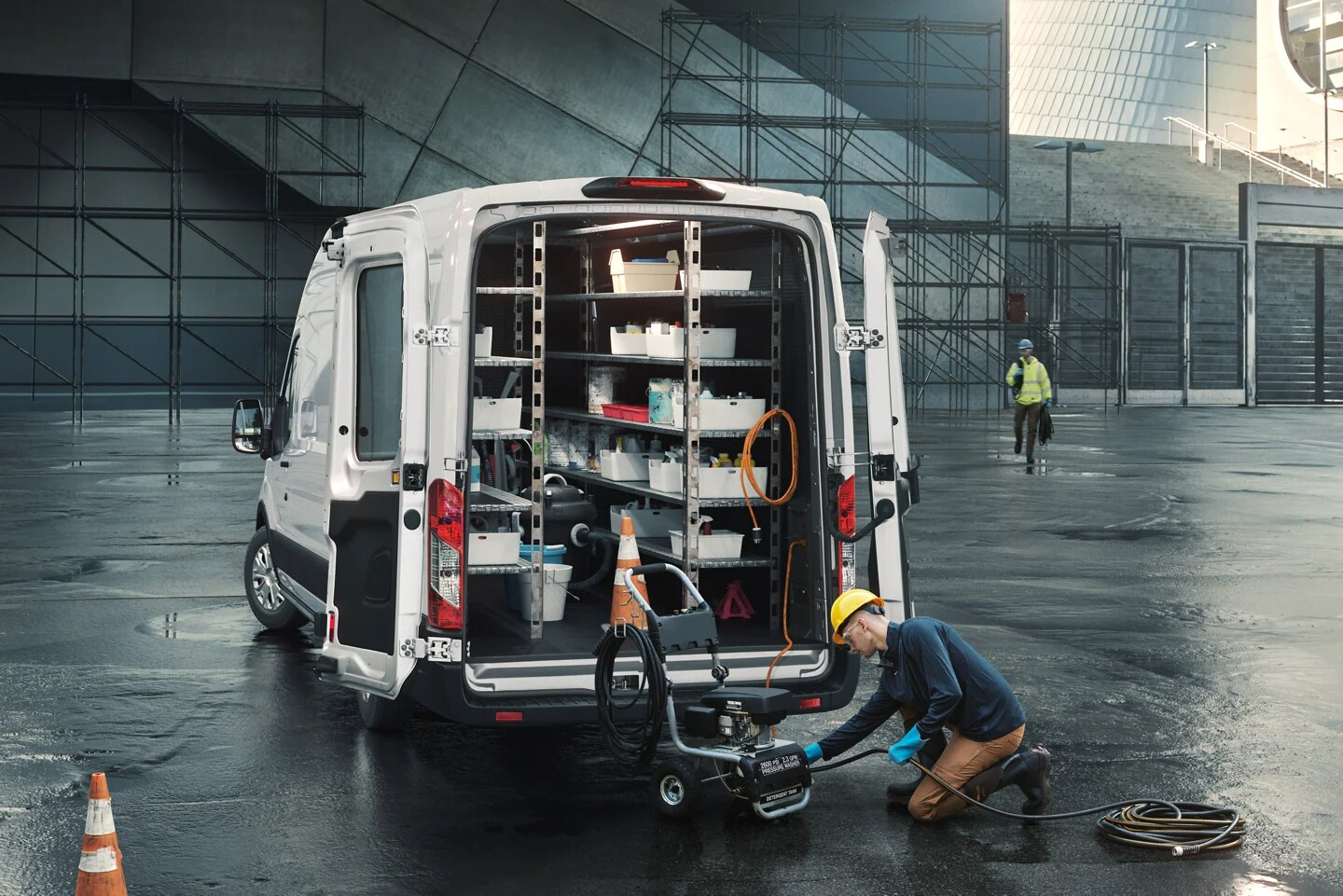 BUILT WITHOUT COMPROMISE
E-Transit does everything except compromise. For instance, by integrating the battery underneath the body of the vehicle, you get the benefits of electricity without compromising cargo space. And with a maximum targeted payload of 3,800 lbs. on cargo van low roof, regular wheelbase, 4,250 lbs. on chassis cab and 4,290 lbs. on cutaway,* you can feel comfortable using every inch of that space to bring what you need to get the job done.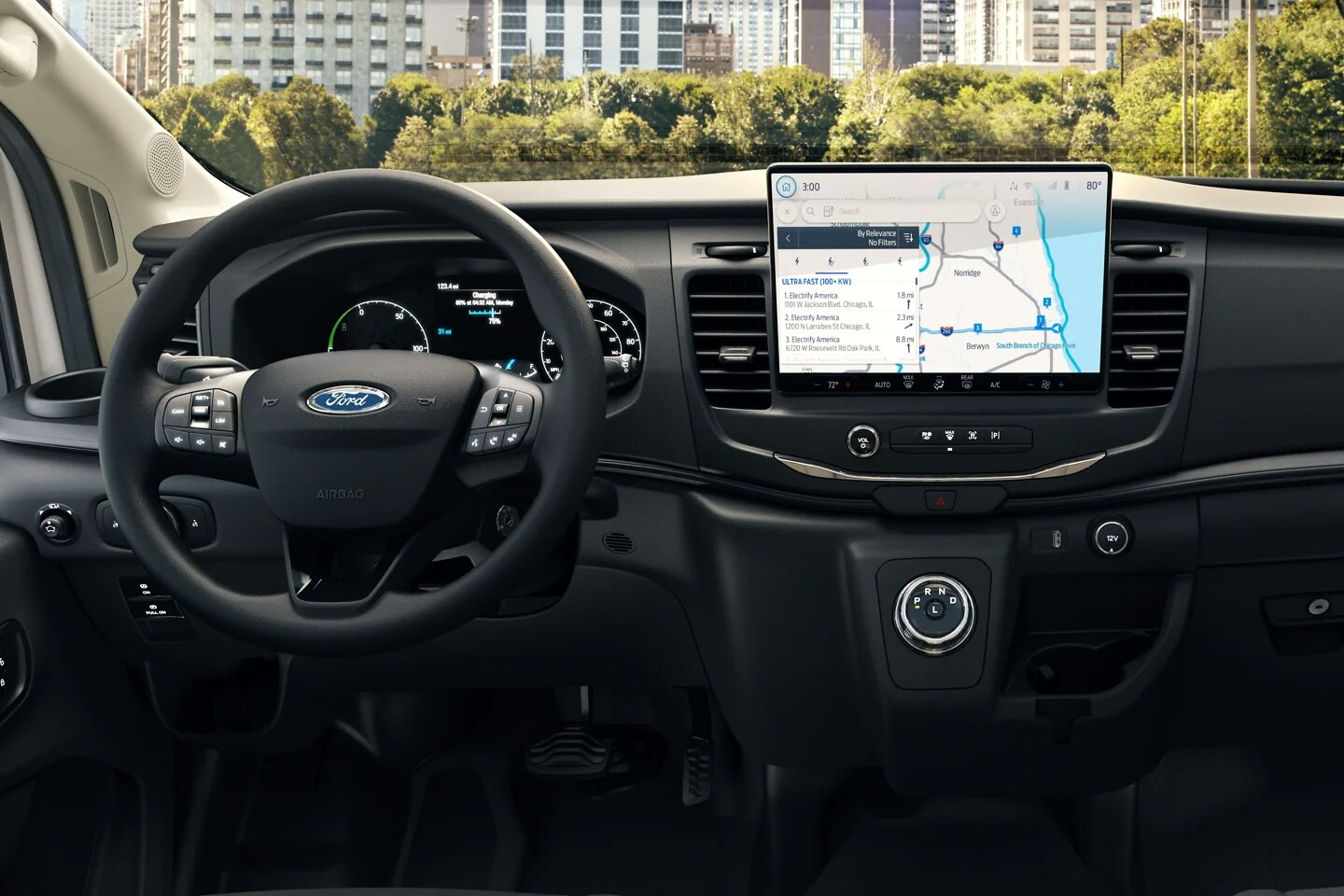 FUNCTIONAL AND ACCOMMODATING
The E-Transit was designed to offer a highly functional interior. By redesigning the center console with a new rotary shifter and replacing the manual parking brake lever with an e-brake on the instrument panel, we improved interior walk-through. And the standard overhead rear shelf delete can give you even more head room when moving around the vehicle. The result is greater functionality and greater productivity.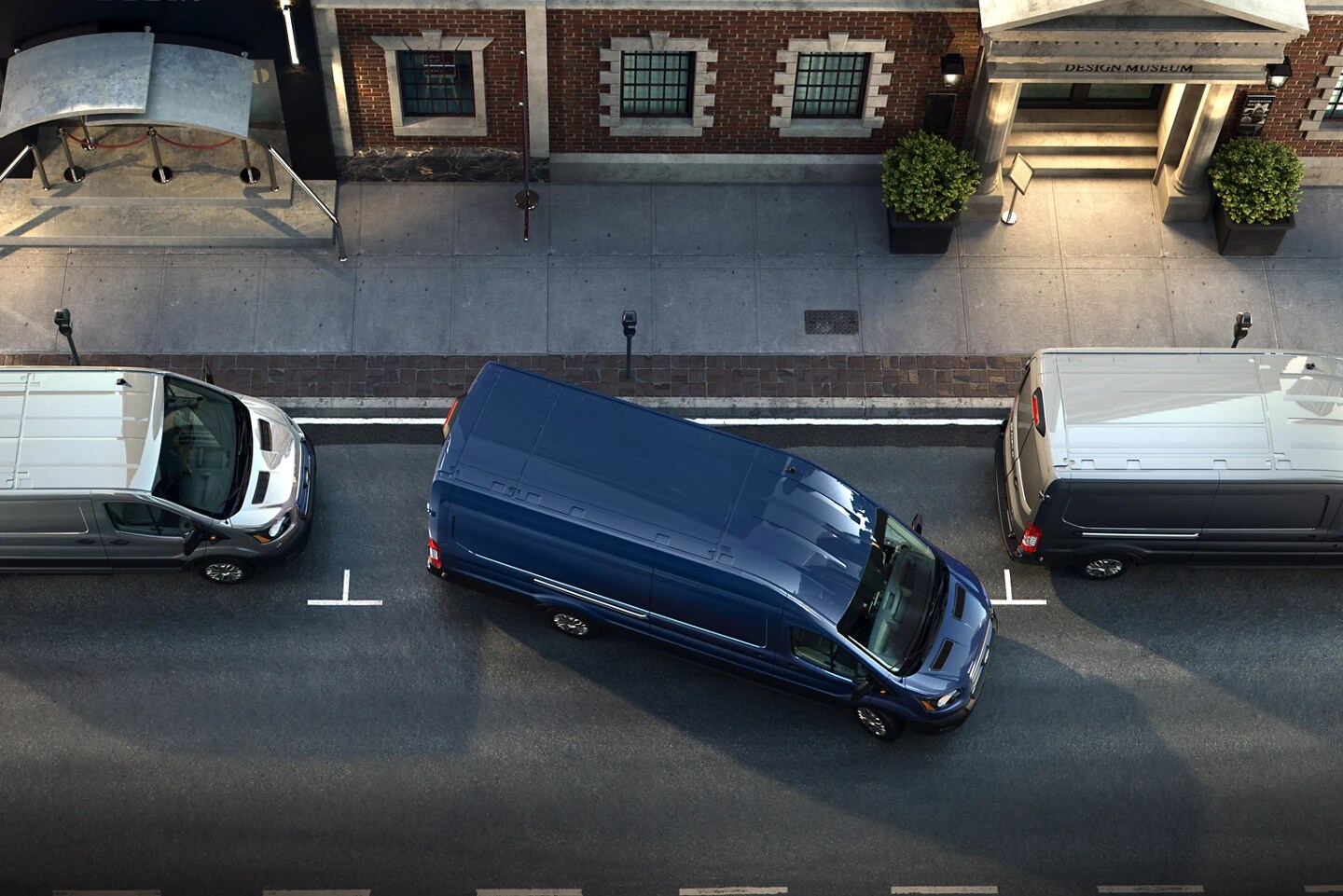 DRIVE WITH CONFIDENCE
The 2022 E-Transit van is designed to offer an impressive driving experience with driver-assist technology that can help keep drivers safe while navigating crowded roads, help improve their driving habits, and help them drive more efficiently. It will make you and the people who drive for you feel comfortable and in command and help control your bottom line.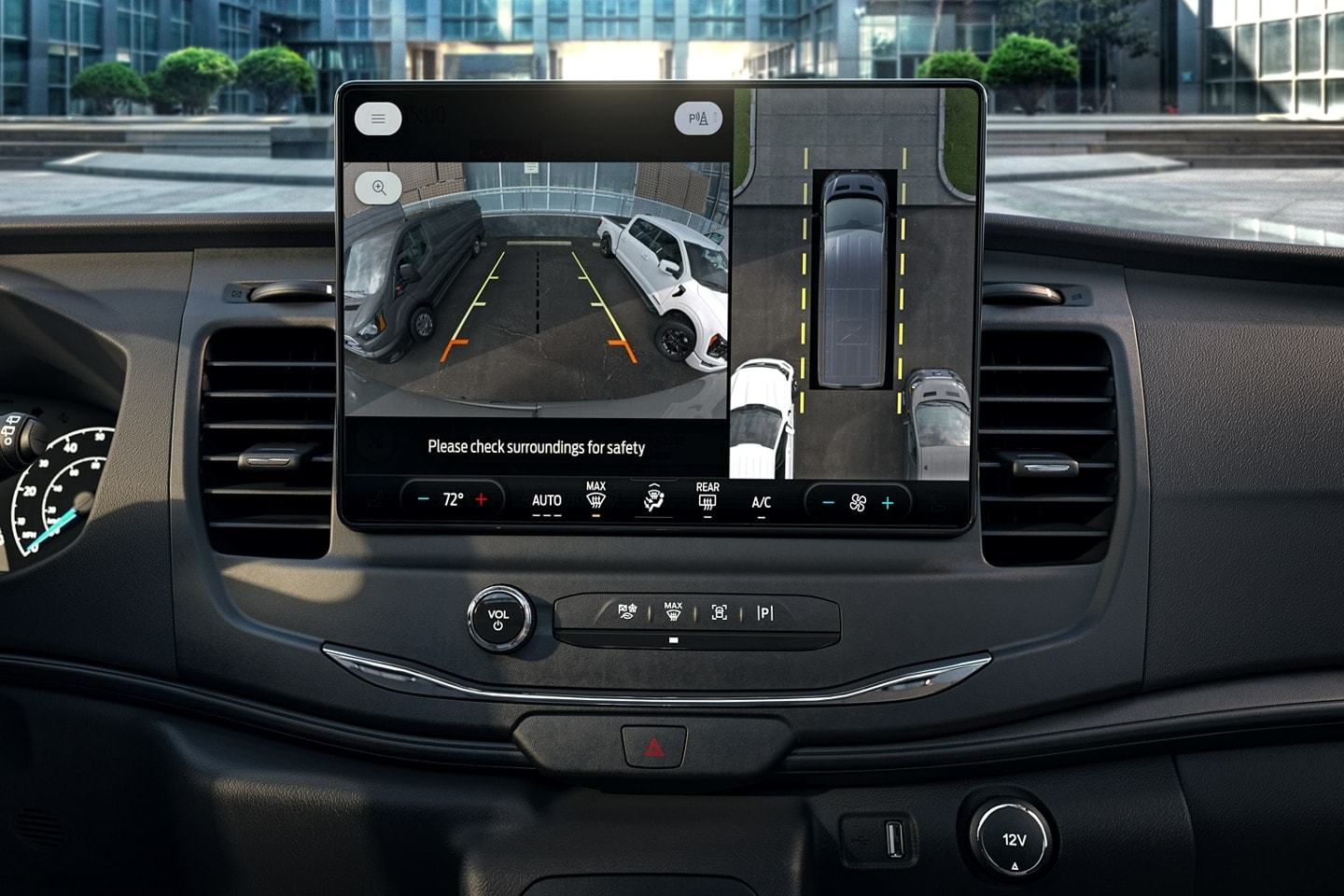 PUTTING TECHNOLOGY TO WORK
We've packed the E-Transit van with smart technology features, many of which can be accessed through the vehicle's convenient and standard 12-inch touchscreen. So whether you're looking to get easy-to-access vehicle information or find ways to maximize productivity, we've got solutions to help you stay connected on the go and on the job.
WE'VE GOT CHARGING COVERED
Ford Pro™ Charging is a tailored charging plan and delivers a complete solution. The only North American solutions provider that combines light-duty commercial electric vehicles (EV's) chargers, and a single source for design/build services. Backed by the largest public charging network in North America, we are offering an ecosystem of charging solutions to meet your needs. Whether your fleet of vehicles is at the depot, on the road or at home, we have you covered.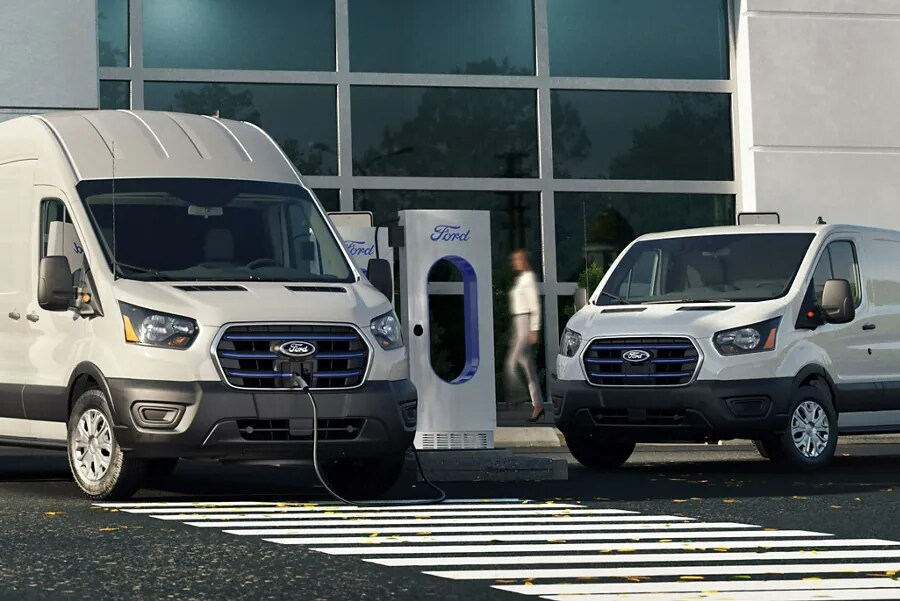 DEPOT CHARGING
For on-site charging capability, ask the experts at Ford Pro how you can install hardware and software to make sure that when your fleet isn't on the road, it's getting ready for it.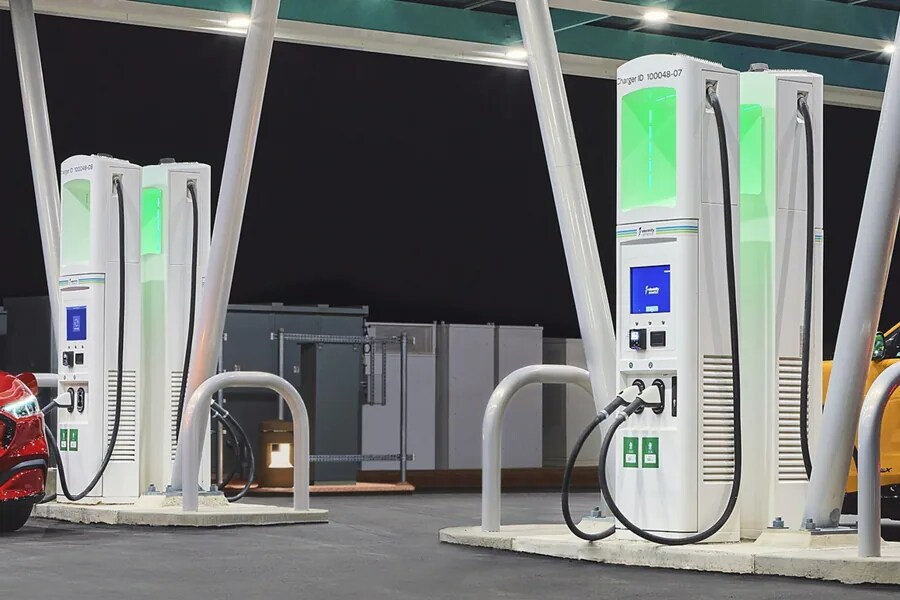 PUBLIC CHARGING
With access to the Ford BlueOval
™
Charging Network, your drivers can quickly find and use one of over 63,000 charging plugs across the U.S.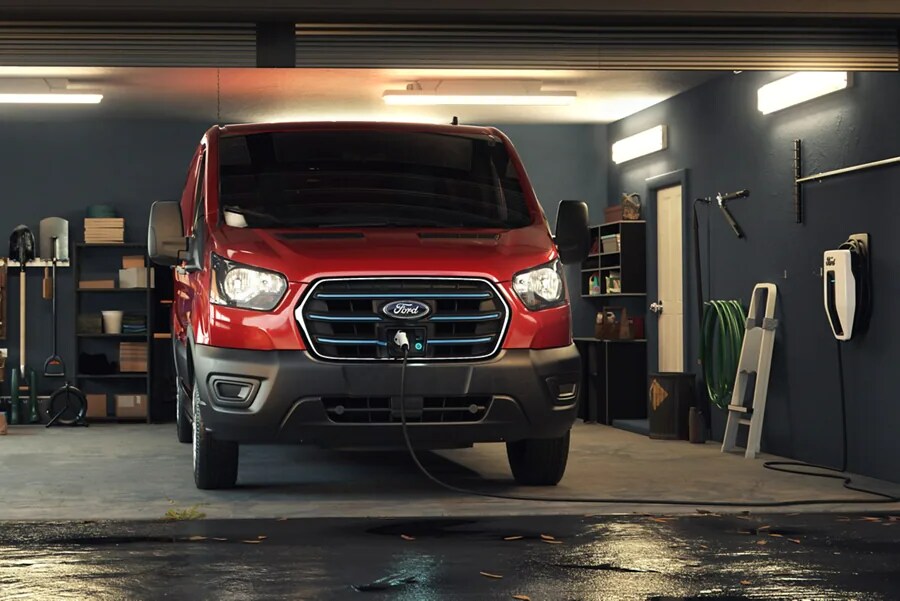 HOME CHARGING
Empower your drivers with the hardware and software they'll need to power up their fleet vehicle from the comfort of their own home.
BACKED BY THE BEST
We're committed to you and your business. So, when you trust Ford for your commercial vehicle needs, you have the backing of a company that has not only been America's best-selling line of commercial vehicles for 35 straight years, but one that strives to be a leader in the future of work, including electrification. And we're just getting started.